History
Although JFE Steel is a pretty newly branded steel producer, established from the merger of NKK and Kawasaki Steel in April 2003, it has inherited the legacies of both NKK and Kawasaki who started steel businesses in 1912 and 1906 respectively.
CRA materials
Oil country tubular goods (OCTG) were first manufactured and shipped at Chita Works Kawasaki Steel in 1971. Since then Kawasaki, now JFE, has been playing a key role of supplying high grade OCTG globally.
13Cr martensitic stainless OCTG is JFE's core product with more than 40 % market share of stainless OCTG shipping from Japanese tube makers, who dominate more than 80% worldwide share.
This CRA material was first launched from Chita Works to the market in 1984.

This was the world first attempt to produce hard-to-pierce seamless tubulars by the mannesmann-mandrel rolling method, which suits mass production and cost efficiency.
Advanced Type of 13Cr (HP13Cr), which have superior corrosion resistance in severe CO2 and light sour environment, were developed in 1997.

These two types of 13Cr OCTG products have been welcomed and used by customers from Super Majors, Majors, to independent and state-owned operators, and the demand of these product has been increasing.(see below chart)

New product lineup of JFE CRA, named UHP™15Cr, was developed in 2003 and first shipped to the U.S market in 2004. This CRA product addresses is a solution for deeper wells with higher pressures, and temperatures.
FOX™ & JFEBEAR™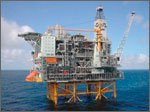 JFE Steel, together with Hunting Oilfield UK, codeveloped its first premium connection FOX™ in 1985. With its unique "pitch change" concept, FOX™ has been earning global reputation for strong gauling resistance and excelent sealability.

Oil & gas operators are currently drilling deeper high-deviation wells in higher pressure reservoirs.
To address these severe conditions, JFE-Steel developed JFEBEAR™ in 1999, a new breed of premium connection designed to withstand today's toughest well conditions.
Key Milestone of JFE OCTG
| | |
| --- | --- |
| 1943 | Chita Works established as special steel plant. |
| 1970 | Small diameter seamless pipe mill (OD1"~7") begins operation. |
| 1971 | OCTG seamless pipes first shipped. |
| 1978 | Medium diameter seamless pipe mill (OD7"~16") begins operation. |
| 1985 | FOX™ premium joint codeveloped. |
| 1993 | Awarded the Okochi Memorial Special Production Prize for manufacturing 13Cr OCTG. |
| 1999 | KSBEAR premium joint developed. |
| 2000 | Accumulated seamless pipe product reaches 10 million tons. |
| 2003 | JFE Steel established from the merger of NKK and Kawasaki Steel. |
| 2004 | UHP™15Cr first shipped to the U.S market. |
Stainless OCTG Shipment Quantity from Japan