International Steel Tube & Pipe Forum 2014 (Abu Dhabi of UAE)
Mr. Mitsuru Anezaki, General Manager of Energy Industry Steel Export Dept. at JFE Steel Tokyo Headquarters, made a presentation at International Steel Tube & Pipe Forum hosted by Metal Bulletin in Abu Dhabi of UAE. Mr. Anezaki introduced history of JFE Steel and progress of pipe & tube business. He appealed JFE's innovation-driven approach with examples such as 17% chrome CRA seamless OCTG called "UHP™-17CR", electric resistance welded (ERW) line pipe called "Mighty Seam™" for low temperature service and ERW of X80 grade with one inch wall thickness.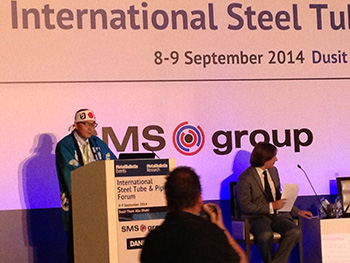 He also explained that JFE partnership philosophy has mind to respect other peoples and their benefits, which is a heritage of Japan's ancient Crown Prince, who established Japan's first Constitution in the 7th Century, requiring harmony with others shall be most prioritized in Japanese society. He exampled a wide variety of partnership/collaboration cases in many sectors including energy industry.

In closing, Mr. Anezaki stressed how attractive Japanese culture is and encouraged audiences to visit Japan.